Accura Carrier Integration
What is carrier integration?
Most printers use carriers day-in-day-out to ship parcels nationwide. Getting accurate pricing, booking the shipment, re-keying delivery addresses, box weights, sizes and completing paperwork is time-consuming and prone to error!
Some carriers provide a separate terminal in your packing department, but it still requires you to login, setup address books, key-in job details, box sizes, weights etc... and let's face it you're now "locked-in" to them.
What if you didn't have to do ANY of that keying?... and you could continue to use your EXISTING national carriers AND your negotiated pricing?
What if, with a few clicks you could get an exact price, book the collection, print your pre-approved bar-coded labels, AND obtain live-tracking data and URL links to send out to clients by email?

Sound good? - Meet EasyPost carrier integration. EasyPost is our all NEW carrier web service built into Accura. With EasyPost you can do all of this without leaving Accura and without re-keying data - minimising time, errors, and it saves all the data within the Accura database automatically.
Want to see how it's done?
We've recorded a video showing the features of this great new add-on and how easy it is to setup:

http://sales.accuramis.com/videos/accura521_easypost_integration.mp4
What does EasyPost integration offer me?



Live pricing across multiple carriers
(using your agreed rates) *

Seamless booking of your consignment
(without leaving Accura)

Automated
label
generation - download & print yourself

Address verification (check for errors & clean your database)

Real-time
tracking
information
What does it cost?
Quite simply EasyPost charge 1c per label - no subscription charges, no contracts - plain & simple. So even if you ship 500 boxes per week this will only cost $5.00 - You will be billed directly by EasyPost monthly to a nominated credit card or bank account.
To enable the EasyPost module within Accura contact our sales team for a quote. This is a one-off LOW-COST flat fee module (it does not affect your annual support charge).
What carriers can I use?

Carriers vary by country, however most popular national USA, UK and European carriers are supported. Naturally we can't support small independents, as they don't have the back-end server api for us to talk to. Carrier support includes: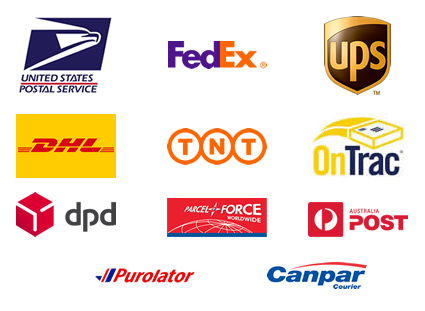 A full list of carriers an be found here: https://www.easypost.com/carriers.html

How do I sign-up?
Use this link: https://www.easypost.com/signup?outsource=Accura-mis

NOTE: EasyPost integration is available from Accura v5.21 Build 9 onwards. If you are not on the most recent version of Accura, please contact support to arrange your upgrade.
*Live-rating is carrier dependent - according to the capabilities of the carrier server API. Where live-rating is not available a pre-loaded rate table will be applied.